Regional Strategy for Addressing Water Chestnut
Water chestnut, Trapa natans, is a highly aggressive invasive plant which can reach 16 feet in length and completely cover surface waters making navigation and recreation nearly impossible. Central New York has been infested with water chestnut since the early 1990s. As of 2002, Oneida Lake and the Three Rivers System was covered with more than 200 acres of water chestnut plants. Areas of heavy infestation include Ox Creek on the Oswego River and the Baldwinsville area of the Seneca River. Within the past few years, water chestnut populations have spread into Oneida Lake.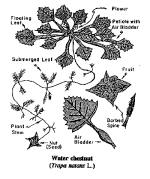 In order to facilitate a comprehensive understanding of the water chestnut problem and associated control efforts in the region, the Central New York Regional Planning and Development Board (CNY RPDB) prepared a summary report in Summer 2002. This report describes the extent of the current problem and remedial/preventive activities occurring in the region, and includes a map showing areas of infestation. The CNY RPDB also participates in regional water chestnut efforts through its membership on the Central New York Water Chestnut Task Force. The Task Force is comprised of representatives from the Cayuga County Planning Department, CNY RPDB, Cornell Cooperative Extension of Onondaga County, Cornell Cooperative Extension of Cayuga County, Cornell University, Finger-Lakes Lake Ontario Watershed Protection Alliance, Madison County Planning Department, New York Sea Grant, New York State Department of Environmental Conservation, Onondaga County Health Department, Oswego County Soil and Water Conservation District, and others. The Task Force serves as a vehicle to coordinate work efforts in the region and is working towards a water chestnut management strategy that can be used to foster support and secure funding for water chestnut eradication efforts.
While mechanical harvesting and hand-pulling are the main methods currently being used to control water chestnut in the region, there is also interest in biological and chemical control options. Biological control organisms are being researched by Cornell University and preliminary results will be available in Spring 2003 (funding provided through Congressman Walsh). As part of the Task Force, the CNY RPDB is compiling information needed by the NYS DEC to make a decision regarding the acceptability of using herbicides to control the rampant spread of water chestnut in CNY. The Task Force and other groups in the region are interested in piloting chemical control test sites in both river and lake settings.