Rhea Eckel Clark Citizenship Award

Download the
Nomination Form
The Rhea Eckel Clark Citizenship Award was established in 1985 in memory of Rhea Eckel Clark, one of the founders of the Central New York Regional Planning and Development Board. Mrs. Clark distinguished herself throughout her career by working to improve the quality of life in Central New York while addressing issues of regional significance such as education, health care, community revitalization, environmental protection, and social justice.
Mrs. Clark spent three terms as chairperson of the CNY RPDB from 1967-1969. During this period she helped to direct the agency through its formative stages and initiated work on a range of comprehensive planning issues confronting the Central New York community.
In addition to her work with the CNY RPDB, Mrs. Clark was president of Cazenovia College from April 1957 to March 1971. She was also named director of the American Management Association for a three-year period beginning in 1968. Upon retiring from her presidency of Cazenovia College, Mrs. Clark headed Governor Rockefeller's State Commission of the Aging.
Before coming to Cazenovia College, Mrs. Clark spent eight years with the New York University School of Education as assistant to the dean and consultant for community education and development. Previously, Mrs. Clark was executive secretary for New York State Citizens Council, Inc., and in 1949, she served in Germany as a visiting consultant to the U.S. Army of Occupation Program. During her lifetime, Mrs. Clark received a number of honors including the 14th Colgate Civics Awards presented to area men and women "who have exemplified, by their own generous service, the principle of democracy in action." Mrs. Rhea Eckel was married to Dr. Wesley C. Clark, who served as dean of the Syracuse University School of Journalism for more than 20 years.
Criteria
The recipient of this award must:
Provide strong regional leadership;
Help implement programs that have improved the quality of life in CNY; and
Support efforts that foster intergovernmental cooperation and civic participation.
Walter John Tennant, Jr., CNY RPDB's 2012 REC Award Recipient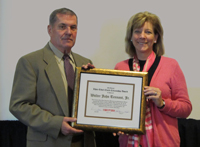 Philip Tennant accepts the REC award on behalf of his brother Walter J. Tennant Jr. from Board Chairwoman Kathleen A. Rapp.
Walter John Tennant, Jr. was named, posthumously, the recipient of the 26th annual Rhea Eckel Clark Citizenship Award at the Central New York Regional Planning and Development Board's annual meeting held on December 12, 2012.
Mr. Tennant was born in Cortland and was a life-long resident. He graduated from Union College in Schenectady in 1965 with a degree in Civil Engineering. At the age of 33 he became the youngest and first professional civil engineer appointed to the position of highway superintendent in Cortland County. Mr. Tennant retired from the County after more than 30 years of distinguished service and was lauded for his integrity and high standards.
Mr. Tennant held many leadership roles throughout his life including President of the National Association of County Engineers. He also played a significant role as a member of the Homer Library Board, the Newman Foundation, the Cortland County Industrial Development Agency, the Central New York Enterprise Development Corporation, and most recently as Chairman of the CNY RPDB.
Past Recipients
2010
Louis Pettinelli, CNY RPDB Board member
2009
Mary Anne Messinger, CNY RPDB Board member
2008
Ferdinand L. Picardi, Chairman, Metropolitan Water Board, Onondaga County Water District
2007
David R. Elleman, CNY RPDB Board member, Onondaga County Comptroller (retired)
2006
Eugene G. Saloga, Director, City of Oswego Community Development (retired)
2005
John Zawadzki, President, Partners Trust Bank; Central Upstate Regional Alliance
2004
James T. Walsh, U.S. Congressman
2003
Robert Doucette, Armory Development & Management
2002
Chuckie Holstein, FOCUS Greater Syracuse
2001
Ralph Standbrook, Chairman, Cayuga County Legislature
2000
Robert H. Kuiper, Mayor, Village of Hamilton
1999
John H. Mulroy (posthumously), former Onondaga County Executive
1998
Ann Petrus, Chair, Cayuga County Water & Sewer Authority; Supervisor, Town of Brutus
1997
Bruce B. Phelps, Oswego County businessman
1996
Arthur W. Ospelt, Oswego County Administrator
1994
Ray Halbritter, Oneida Nation Representative; CEO, Nation Enterprises
1993
Tarky Lombardi, Jr., former New York State Senator
1992
Vijay Mital, Director, Department of Planning and Economic Development, City of Auburn; Team Snyder General
1991
Marilyn Higgins-Rohde, Senior Vice President, Greater Syracuse Chamber of Commerce
1990
Robert J. Congel, President, Pyramid Companies
1989
Warren H. Frank, Executive Director, CNYRTA
1988
Mayor Tom Young's Advertising Advisory Council

1987

Francis P. Benton, Former CNY RPDB Chairman

1986

L. Steve Riford, NYS Senator

1985

Hollis Iselin, Chair, Oswego County Legislature